New from Product: Regularly-Timed Product Releases!
We've always prided ourselves on moving fast. It's the advantage of working for a nimble startup instead of an incumbent company—we're hardwired to research, test, and repeat until we've satisfied everything on our customers' wish lists.
Now, we're scheduling our product releases at a much more regular cadence. Starting this month, we've set a consistent release date that our customers can depend on: the last Tuesday of every month. We're excited to offer our customers a more consistent and transparent experience as we roll out product updates like clockwork.
This Month: Review Edits Feature
With our new Review Edits feature, authors can see all of the changes made to a page, and selectively undo them with one click, right in context. It's easier than ever to make updates quickly, and arrive at the version your team needs.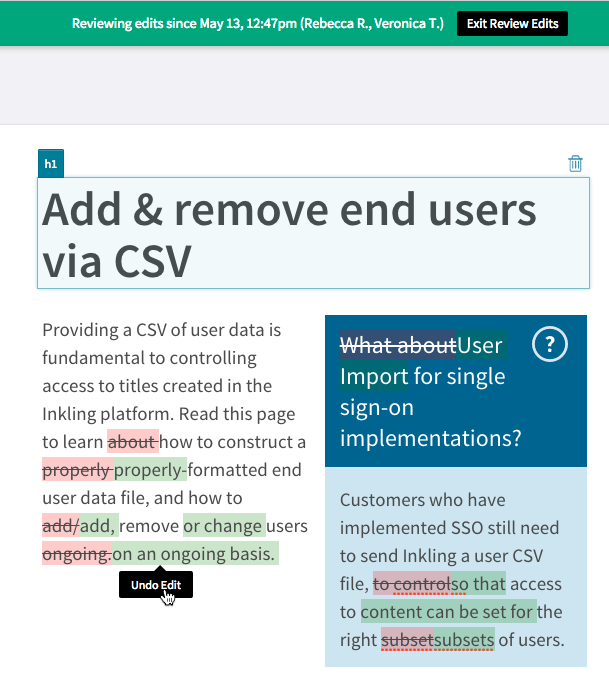 To enter Review Edits mode, pull down the "Page Activity" menu and select a prior version of the page by clicking "Review Edits." The screen will display all changes made between that version and the current version of the page. You can continue to make edits to the page while in this mode, which will be saved to the current version.
Calling All Beta Testers!
As we settle into this new schedule, we're looking for beta testers that will help contribute regular feedback (while also getting their hands on the latest and greatest new product). For example, we have a revised content reporting dashboard on the horizon that will provide even deeper insights into how your end-users are reading your content. We'd love to hear your thoughts.
Stay Tuned.
As we schedule these monthly releases, stay tuned for more news from the product team. We're working hard to fulfill existing product needs—and get ahead of what you'll need in the future—and can't wait to deliver.