Launching a Mobility Program? Beware of the Adoption Chasm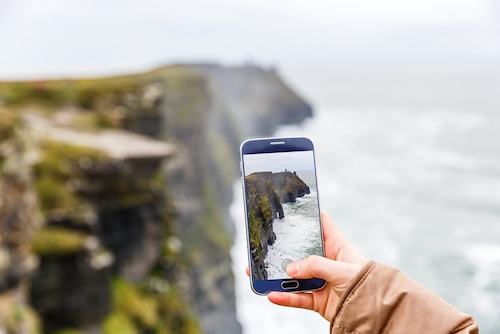 As smartphones, tablets, and wearables flood our personal lives, corporate mobility is becoming a necessity—not just an advantage. With half of the world's population having a mobile plan, people are increasingly accustomed to accessing the personal information and services they need through any device, easy-to-use applications, and ever-faster bandwidth. But it's not such a rosy picture in the workplace.
While most business leaders understand the importance of corporate mobility and offer some form of mobile capability to employees, going mobile is easier said than done. A recent report from Constellation Research found that while nearly 50% of organizations surveyed listed improved communication, enhanced collaboration, and increased productivity as the most important results of a mobile program, only a third reported achieving these goals.
What's behind the disconnect between implementation and results? While the challenges of managing a diverse mix of devices, people, and communications vary, there is one hurdle that seems to evade even the most thorough of mobility programs: After launching, employees just don't use the program. This is what we call the "adoption chasm."
How can your organization avoid the adoption chasm? Here's a look from our latest eBook on how to create a mobility program your employees will love:
What causes the adoption chasm?
A lack of employee engagement in a mobile program doesn't mean mobile isn't right for your audience. Instead, it's likely the result of a common oversight. We spend a lot of time talking about the business value of and need for mobile, but what about the employee value and need?
Most organizations are so relentless in trying to solve other mobility challenges—such as securing budget or ensuring security—that they forget to think through the true purpose of any mobile program: making work easier for employees. The biggest mistake a company can make is assuming employees will use a mobility program simply because it's available.
Make mobile the easiest path to success.
Avoiding the adoption chasm requires designing a program with the end user—the employee—in mind. Mobile should be the best available option for your employee to accomplish what he or she needs to get done. In other words, it needs to be the easiest path to success.
Instead of asking, "What do I need to do to get employees to use this program?" ask, "What do I need to do to help employees get their job done both faster and easier?" If your mobile program doesn't enable employees to find the information they need faster than any other method, they will quickly go back to the "old way"—whether that's flipping through binders, digging through emails, or downloading old PDFs.
To avoid the pitfalls of paper and static documents, think about who supplies the knowledge your employees need to succeed, how that information currently flows from supplier to consumer, and how mobile can improve that flow. An ideal mobile program is one in which your employees can access and share knowledge right at the point of need.
The impact of knowledge at the point of need.
If your mobile program provides employees with an immediate and personalized source of knowledge, you'll not only have happier employees—you'll also increase their efficiency and effectiveness in the workplace.
No matter how you accomplish this—from offering the right content to choosing the best device—providing employees with a mobile program that uniquely solves their most common frustrations and struggles at work will lead to much higher engagement than simply providing a mobile program. And, at the end of the day, greater engagement means greater impact on the bottom-line.
To learn more about overcoming the challenges to corporate mobility, check out our free eBook, "The Value of Mobile Adoption (And How to Achieve It)."