NRF's Big Show: A hopeful shift in focus from Amazon to the customer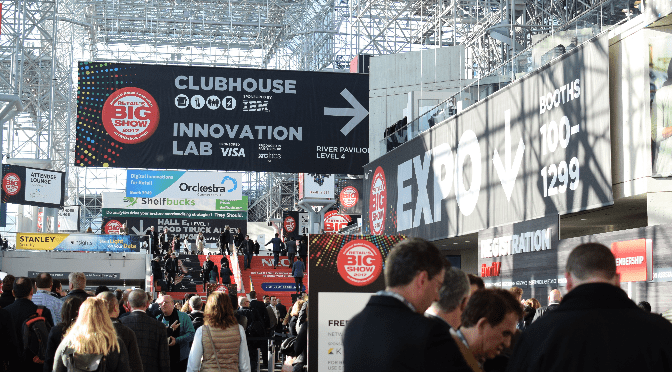 Every year, 30,000 retail industry professionals descend on Manhattan for the National Retail Federation's "Big Show." It's a once-a-year opportunity to take the pulse of one of our most familiar industries. Amazon conspicuously abstains from the event, but it is nonetheless the focus of many conversations, distracting some retailers from the real opportunity: innovations in customer experience. Thankfully, this year a healthy shift seems to have begun.
Over the past decade, retail-focused events have become general technology events. Out are the shelving, printing and shipping vendors. In are companies like Microsoft, Salesforce, and a mosh pit of smaller Silicon Valley companies competing to help retailers reinvent themselves. Nowadays, the Big Show is first and foremost a tech event centered on innovation.
Given Amazon's mammoth size, continued growth (26% year-over-year in Q3), and their staggering market share for online commerce, it's understandable that they're a topic of conversation in every retailer's boardroom. Amazon is the pacesetter in online commerce. But competition among traditional retailers is significant and growing, owing to their omnichannel capabilities and brand strength. Retailers are finding ways to deliver integrated online-offline experiences, services that can only be delivered in person, and offerings reflecting regional tastes and trends.
Kohl's, for example, while seeing foot traffic decline, has grown its omnichannel business to nearly a quarter of its total online revenue. A quarter of all transaction value was either picked up in-store or shipped from a store to a consumer. Kohl's claims that 90% of all transactions are now delivered in fewer than two days.
Despite this progress, it became clear from dozens of conversations this week that the stubborn industry focus on Amazon is dangerously reductionist. While Amazon represents the winner in a massive market shift, it is not the customer. Retailers, their suppliers, and partners must shift their focus to the underlying trends that are driving consumers into the arms of Amazon. Their deep understanding of what today's buyer wants has enabled them to deliver a superior customer experience.
It's easy to forget that Amazon's rise is a response to shift in consumer trends that has already occurred. It begs the now-cliched Wayne Gretzky adage of skating to where the puck is going to be: the winning retailers will create customer experiences that reflect an understanding of emerging trends, and apply their unique strengths to create customer experiences around them. Amazon is part of the equation, but it's not about Amazon.
Innovations in customer experience go far beyond knowledgeable staff or clean stores. We often focus on the interaction between a consumer and a retail employee. But with today's buyer, that's an outdated framing of the customer experience. A far-reaching Accenture study showed that while 82% of Millennial shoppers prefer shopping in brick-and-mortar venues, they also demand a consistent journey across their online, mobile, and in-person experiences.
Amazon cannot deliver this experience, at least not yet. Leveraging the assets of brand, physical store, and, most importantly, the intelligent human beings distributed across a retail or restaurant chain equip offline retail with both online and offline advantages in providing an experience that can differentiate retailers from the Big Bad Wolf. What's more, the next cohort of buyers behind Millennials, the so-called Gen Z, are yet again a different beast, bearing characteristics that play to the geographically localized strengths of traditional retailers. Surprise! Gen Z shoppers show a preference for good human interaction.
For today's retailer, the challenge is not Amazon. The challenge is correctly identifying the consumer trends that enable a next-generation customer experience, and then executing toward realizing a vision that aligns. Retailers must independently innovate around customer experiences to capture the next wave of growth. After all, every great innovation in every industry must eventually give way to the next. In retail, with history as our guide, we can be sure the next great innovator won't look anything like Amazon.
This article also appeared on Chain Store Age.