[Infographic] Top Three Challenges L&D Teams Face in 2018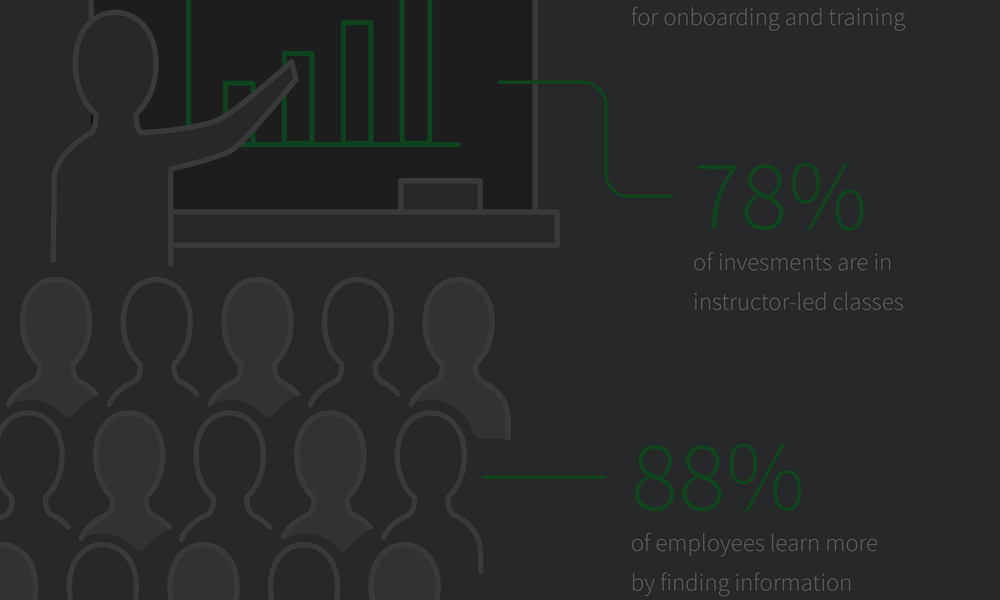 Modern learners present new challenges for corporate L&D teams. At a time when digital information and mobile devices are ubiquitous, employees come to the workplace with expectations that their learning experiences will feel akin to how they consume content in their personal lives: rapidly, interactively, and at any time.
However, this digital mindset rarely reflects today's L&D reality. Whether onboarding, learning a new skill, or attending development courses, employees are often subjected to classroom-led learning and granted limited access to digital materials, if any.
With shifting employee expectations and executive demands for better learning outcomes, L&D is often caught in the crosshairs. What common challenges do L&D teams face today, and what key strategies can they adopt to satisfy their dual customers (learners, executives)? Click on the infographic preview below to see the whole thing!
The State of L&D Today
The corporate L&D industry totals over $140 billion worldwide—and with good reason. Executives are well aware of the important role that L&D plays in closing the skills gap that 92% of executives believe exists in the U.S. workforce.
The good news is that 90% of executives believe that L&D programs should address that skills gap, and they want to modernize the learning experience in order to achieve better results. In fact, 83% of CEOs and HR leaders rate reinventing L&D programs for digital access as important, while 54% rate it an urgent need (up from only 11% last year). This big leap in a single year points to the shifting tide: executives are finally waking up to the reality that you can't improve L&D outcomes if you don't give learners what they need.
From an executive perspective, their top four priorities this year reflect two goals around improving organizational performance (98%) and productivity (97%) and two methods for improvement, as 97% want to increase learning access and flexibility and 96% desire an increase in self-directed learning.
Top Three Challenges L&D Teams Face
Delivering against executive (and learner) expectations is no small feat for L&D, and these teams face three major challenges that must be addressed.
The first—and perhaps largest—challenge is the continued reliance on outdated learning methodologies. At a time when 88% of employees learn more by finding things out for themselves than through instruction, the vast majority of learning methods (78%) employed by companies is instructor-led classes. The in-person classroom setting continues to be the number one method that corporations invest in; the disconnect is further demonstrated by the mere 12% of corporate learning that is mobile-enabled.
To summarize, employees are stuck in a classroom situation where they don't learn best and are further handicapped by not having direct digital access to the information. Adding fuel to the fire, 66% of on-the-job employees can't access content in their moment of need, which will likely continue since 53% of companies claim to lack the skills needed to implement and manage technology-enabled learning.
The second challenge L&D teams face should not be surprising in light of the first: their inability to provide relevant and engaging content that employees can easily access or search. 44% of corporate content is made up of static, non-searchable paper documents or PDFs, and an average of 30% of corporate materials is wasted. And companies should be aware of this problem because 76% of employees complain about the difficulty of finding the right information, and 75% of employees frequently ask questions about procedures that are documented. Sadly, even when content is discovered, it's often inaccurate by the time it's used (69%).
The final challenge drives at proving the worth of L&D's contributions. Unfortunately, many executives and L&D leaders lack data and analytics to demonstrate impact or improve the offerings that accelerate employee performance. While the top two measurements desired by enterprise CEOs are business impact and ROI, 92% of CEOs can't see the business impact of L&D, and 96% can't see the ROI. Those numbers are tied directly to the fact that only 19% of L&D teams have learning analytics to utilize for improving the training they offer.
Three Key Strategies for L&D to Adopt
These challenges are big but not insurmountable if you start with one simple strategy: embrace mobile. Employees immediately benefit from on-demand learning experiences that mimic the way they learn, not to mention consistent and direct access to digital and dynamic content.
Plus, mobile learning allows L&D teams to relay information in a way that's fast and interactive through microlearning. This bite-sized learning technique employs "experience design" to focus on the learner and how they ingest new information, which drives better retention and superior execution.
Speaking of results, the best way to track content usage and learner engagement is by adopting a digital content solution. Data is built into its DNA. L&D teams can demonstrate their value and effectiveness when they have access to real-time data and analytics that answer any questions that executive teams throw their way.
In Conclusion
The L&D excellence and efficiency you desire can be achieved when performance is boosted through a mobile workforce enablement solution. This modern approach to learning addresses the challenges employees face with traditional in-person instruction models while matching the demands of executives for concrete numbers and better results.
If you're ready to deliver exceptional learning experiences, Inkling is here to help you boost your learners to new heights. Learn more about Inkling Knowledge today. (And don't forget to take a two-minute self-guided tour of our smart content system!)