Inkling Top 5: The Books that Inkblots Love
Did you know that Inkling actually got its start as a digital textbook publishing platform? So you could say that we've got a thing for books.
We have a very active, and ever growing, book club at Inkling and we read nine books together last year. So whether your list of new year's resolutions includes "read more books," or you are simply searching for your next great read, we're here to help. We polled our book club and the group collectively agreed on their three favorites:
Shortlisted for numerous awards and accolades, everyone from Barack Obama to Bill Gates put this critically acclaimed memoir on their must-read list last year. Needless to say, we agree with the praise and found ourselves enthralled by this true story of a woman who grew up in the Idaho mountains as a survivalist. Lacking formal education, Tara finds her way to Brigham Young University, where her whole worldview starts to expand in extraordinary ways. This story of personal transformation through experience is engrossing, especially as Tara struggles to reconcile her former life with her new self.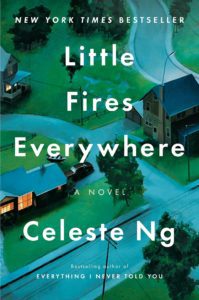 We couldn't get enough of this fast-paced novel that we can't wait to see play out on the small screen. (Reese Witherspoon is currently turning it into a drama mini-series, which she is starring in alongside Kerry Washington.) The premise may sound straightforward (single mother moves into quiet Cleveland suburb, disrupts the staid life of a wealthy and stable family), but the beauty of this book is the way it explores questions of race, class, family, motherhood, and society. Ng's writing brings it all together with rich characters whose moral struggles make for a riveting read.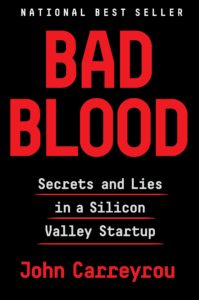 Written by the Pulitzer Prize-winning Wall Street Journal investigative reporter who broke the story, this non-fiction book gives an insider account of the rise and fall of Theranos. Founded in 2003 by 19-year-old Stanford dropout Elizabeth Holmes, the biotech startup claimed to have a machine for faster blood testing, and Holmes grew her company to a $9-10 billion valuation on that assertion. In 2015, Carreyrou blew the cover on Holmes's "unicorn" company, which has been called "the biggest corporate fraud since Enron." This book is impossible to put down and really made us reflect on own experiences in Silicon Valley.
Our last two recommendations come from Chief Inkblot, Jeff Carr. He found these books inspirational and recommends them for executives, leaders, managers, and anyone who wishes to push himself or herself to new heights.
In the spring of 2015, ultramarathoner Scott Jurek undertook a formidable challenge: he wanted to beat the speed record for completing the Appalachian Trail on foot. From Georgia to Maine, he ran and hiked almost 50 miles daily to cover the 2,189-mile trek in 46 days. While Scott set an impressive new record, what makes this tale gripping is his perseverance in the face of impediments and human limitations (age, injury). A runner himself, Jeff, found the mental and emotional tenacity Scott displays to meet his Herculean goals inspirational for anyone up against a considerable challenge.
Originally published in 2000, this title remains a classic must-read for those who aspire to be genuine leaders. Its lessons are based on the true story of Sir Ernest Shackleton and the 27 polar explorers he took to the Antarctic in the early 20th century, all of whom were stranded for nearly two years and managed to survive. Shackleton's unwavering leadership in the face of hardship and uncertainty is the basis for the book's ten business lessons. While the story remains inspiring, Jeff considers the strategies to be timeless for how to overcome adversity and develop the skills to be a strong, effective leader in any setting.
We hope you enjoy these books as much as we did. Happy reading!