Industry leaders, Inkling customers take center stage at Illuminate 2019
In its first year, Inkling Illuminate 2019 proved to be a high energy, informative, and fun-filled event as learning leaders, world-renowned industry analysts, and Inkling customers gathered in Chicago. 
Training professionals from a wide range of industries connected and shared ideas with their peers while discussing content authoring, the modern learning market, corporate learning trends, and training best practices. 
Learning in the flow of work dominates keynote and customer sessions
A common theme was the shared belief that traditional learning solutions do not adequately meet the needs of today's learners. Overwhelmingly, industry leaders agree that solutions need to bring learning to the employee in the workplace.
Inkling leaders talk modern learning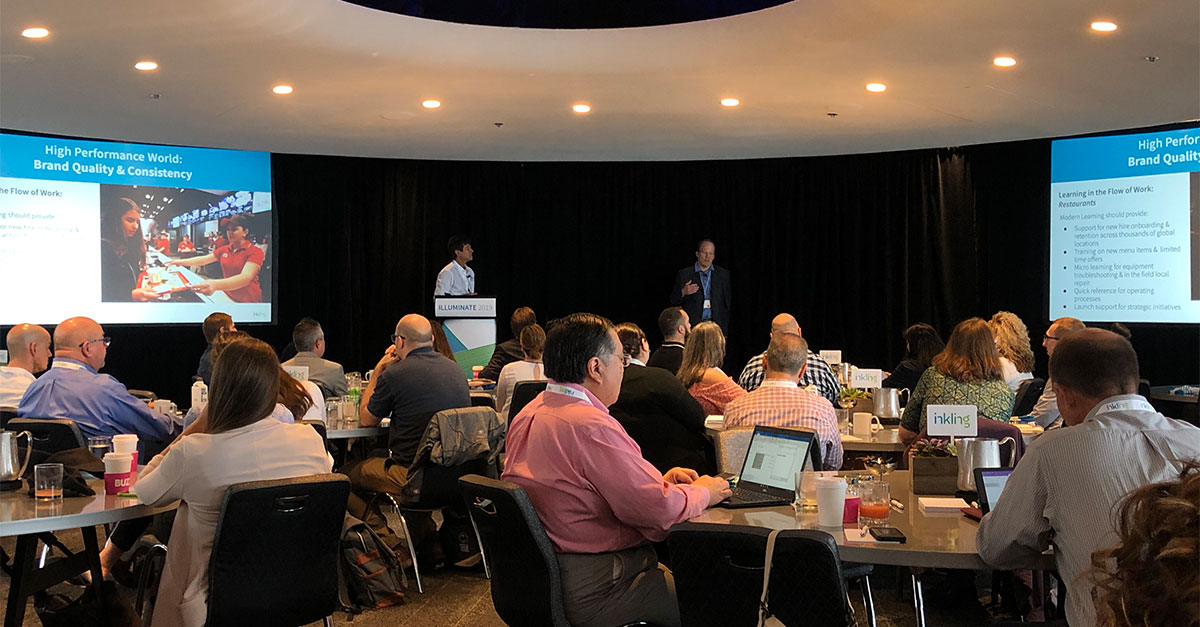 To kick things off, Former Inkling CEO Jeff Carr and VP of Product John Crowther reviewed the state of modern learning and explained how Inkling's modern learning platform is designed for learner-centric experiences. With structured learning paths, easy content authoring, and meaningful analytics, organizations have everything they need to activate their most critical knowledge with simplicity. 
The big takeaway: With Inking it's possible to bring better learning experiences to life and help create a high-performance world.
Industry analysts share their insights 
Bersin Academy Founder Josh Bersin delivered a keynote on how things are changing in corporate learning. Josh emphasized the need for learning solutions that build capabilities rather than focusing solely on skill-building.
Aragon Research Founder and CEO Jim Lundy focused on trends he's noticing in corporate learning, including the positive impact video learning and AR/VR simulations have on learner retention.
McDonald's leads the charge
In a Fireside Chat, McDonald's CLO Rob Lauber sat down with Former Inkling CEO Jeff Carr to share insights from his 30+ years of experience in the learning industry. Responsible for the learning and talent development strategy and execution across 37,000 restaurants globally, Rob shared how McDonald's uses Inkling to power learning in the flow of work. He noted that individual productivity improved when McDonald's used Inkling to move learning out of the backroom and onto the floor.
Additional customer sessions included Hikvision, Pure Storage, and Verizon Media, all of whom talked about their journeys and experiences using Inkling for training and development. 
Attendees also had the chance to take their Inkling know-how to the next level with sessions like Tips & Tricks for Designing Great Content, co-presented by Project Lead the Way Curriculum Instructional Designer Emily Neder and Inkling Senior Content Strategist Susan Sarratt.
Join us next year
For those who enjoyed this year's conference (and for those who have major FOMO as a result of missing it), now is a great time to mark your calendar for next year's event, which will take place from September 14-16, 2020. We hope you join us at The Encore in Las Vegas as we continue to Illuminate the future of learning. 
If the topic of "learning in the flow of work" interests you, don't miss our on-demand recording of Bring Learning to Work: How to Create Learning Moments that Deliver Results.