Pride Month: Celebrating the LGBTQIA+ Community and Compassion for All
June marks the 51st celebration of Pride Month, when millions of people around the world show their support of the LGBTQIA+ community.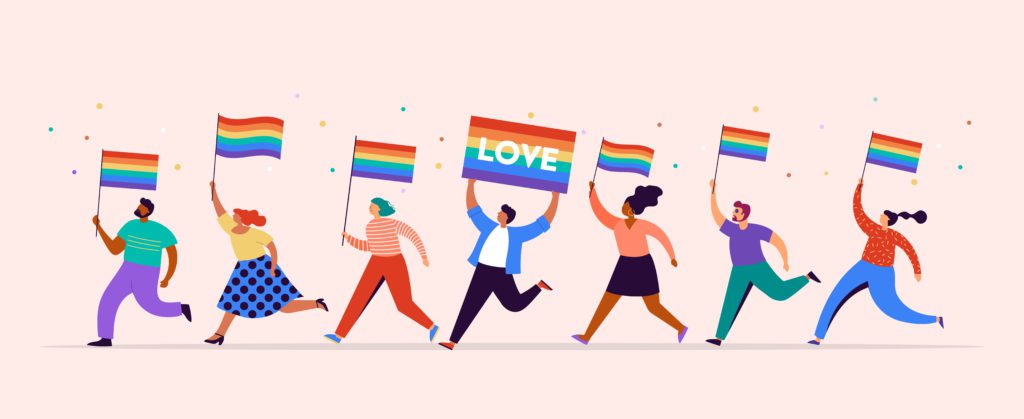 June marks the 51st celebration of Pride Month, when millions of people around the world show their support of the LGBTQIA+ community. Pride gatherings are rooted in the history of minority groups who have struggled to overcome prejudice and be accepted for who they are.
Stonewall Riots and the Birth of Pride Month
The month-long celebration is held in June because on June 28, 1969 police raided a gay club called the Stonewall Inn in New York's Greenwich Village. Authorities claimed the raid was based on an improper liquor license, but it was actually more about violently harassing and arresting gay people, and in one of the few places where they felt safe.
While similar raids had occurred on gay-owned businesses for decades, this one was different, as angry patrons resisted arrest after being fed up with years of harassment by authorities. A diverse crowd of lesbians, gay men, and transgender women, many of whom were people of color, clashed with the police by throwing bottles at them, refusing to be intimidated. Now known as the Stonewall Riots, the neighborhood erupted in riots that lasted for days. A New York rally was held the next year to commemorate the first anniversary of the riots that started the now ongoing tradition of Pride Month.
The 1969 uprising in New York turned into a catalyst for an emerging gay rights movement as organizations such as the Gay Liberation Front and the Gay Activists Alliance were formed, much in the same way as the women's rights movement and the civil rights movement.
Bisexual activist Brenda Howard, known as "The Mother of Pride," is credited with starting Pride Month. She organized Gay Pride Week and the Christopher Street Liberation Day Parade a year after the Stonewall Riots. Eventually, these evolved into the New York City Pride March, which led to the formation of similar parades and marches around the world. Bill Clinton was the first U.S. President to officially recognize Pride Month in 1999 and 2000, and from 2009 to 2016, Barack Obama declared June LGBT Pride Month.
Despite the strong movement and supporting organizations, it is sad to think that so many in the LGBTQIA+ community have lost their lives to hate crimes and HIV/AIDS. Pride Month by the numbers gives us a sobering look at their welfare (Source):
52%: the percentage of LGBTQIA+ people who've experienced depression recently
1 in 8: the number of LGBTQIA+ people who have experienced unequal treatment from healthcare staff
46%: the percentage of lesbian, gay, and bisexual people open about their sexual orientation with their family
1 in 5: the number of LGBTQIA+ women living in poverty
43%: the percentage of LGBTQIA+ employees who haven't revealed their orientation at work
10%: the amount of time LGBTIA+ workers spend hiding their identities
<$12,000: the annual income earned by 22% of LGBTQIA+ people
Learn More, Understand Better, and Embrace Individuality
At the heart of Pride Month is a call for equality, inclusivity and justice, which Inkling will always embrace and stand up for. We have no tolerance for hate or prejudice, and work throughout the year to educate ourselves with the goal of promoting equality and celebrating diversity and inclusivity.
Inklusion, an Employee Resource Group at Inkling, is an inclusive group that provides community support crucial to upholding our values, and creating a space where employees feel seen, heard, and a sense of belonging. This group focuses on highlighting the characteristics shared by people in historically underrepresented and marginalized circles, including the LGBTQIA+ community, and embracing these characteristics to encourage full authenticity in the workplace. We believe that providing a safe space to be one's authentic self drives creativity, productivity, and overall wellness.
To commemorate Pride Month, Inkling is taking the opportunity to educate our team about the contributions and history of the LGBTQIA+ community with information shared in a weekly internal newsletter. We have also changed the colors on our website to reflect the Pride rainbow, and are showing our support on all our social media channels.
There are many ways to learn and gain knowledge of this community to have a better understanding of who they are and the difficulties they share.
Watch a movie
The Death and Life of Marsha P. Johnson – a compelling documentary that investigates the mysterious 1992 death of Marsha P. Johnson, a black, trans and gay rights activist and veteran of the Stonewall uprising of 1969.
A Single Man – a moving story set in 1962 that doesn't shy away from the cruel homophobia of the time.
Milk – tells the story of Harvey Milk, the gay rights activist in California who was assassinated in 1978 shortly after being elected to the San Francisco Board of Supervisors.
Read a book
When We Rise: My Life in the Movement – a semi-autobiographical account follows Cleve Jones as he explores his identity as a gay man in the 1950s, discovers a community and a cause through his mentor, Harvey Milk, and copes with the ravaging effects of the AIDS epidemic.
Transgender Warriors: Making History from Joan of Arc to Dennis Rodman – Leslie Feinberg scours history to reveal possibly gender-nonconforming and transgender individuals that traditional historical accounts have often been ignored or misrepresented.
The Celluloid Closet: Homosexuality in the Movies – Vito Russo's 1987 analysis of the portrayal of homosexuality in film sets the stage for how we evaluate LGBTQIA+ representation in film today and supports the argument that representation matters.
Learn what it means to be an LGBTQ ally and what you can do
6 Ways to Become a Better LGBTQIA+ Ally (read)
Top 10 Ways to Become a Better LGBTQIA+ Ally (read)
How to Be a Better LGBTQIA+ Ally (read)
At Inkling, we value human dignity and have respect for all individuals. We strive to keep our hearts and our minds open, and support each other and those who face discrimination, as much as we can. Pride Month presents an opportunity to embrace our differences, promote equality, increase visibility, promote self-affirmation and recognize that life is a colorful rainbow that inspires and enriches our individual and collective experience.
—
Former CEO Jeff Carr
#PrideMonth #PrideDay #PrideFlag #PrideParade #LGBTQIA+ #PrideParty #PrideDance #PrideMakeup