Inkling at DevLearn 2017: The Future of Content is Here
Every year, DevLearn puts attendees at the forefront of what's happening in the learning industry. It's a place where the future of learning comes alive, and Inkling is excited to join in the excitement.
We're thrilled to be a sponsor at this year's DevLearn conference in Las Vegas on Wednesday, October 25th to Friday, October 27th at the The Mirage Hotel in Las Vegas, NV. We'll be joined by thousands of learning and development leaders from around the country, eager to share tips, tricks and best practices on the latest in L&D.
Meet us at our booth (#208), where you can not only learn about our enterprise smart content system, but also partake in some bright and colorful surprises that we have in store. You can also enter to win a DJI Phantom 3SE Drone & Google Home.
Not to be missed, come see our speaking session featuring  Lindsey Clayton, Instructional Design and Technology Lead, Global Dealer Learning at Caterpillar as she joins Inkling CEO Matt MacInnis to discuss how Caterpillar empowers its worldwide dealers with mobile learning.
"With Inkling, Caterpillar uses mobile-ready service guides to reduce dealer training time by 2 hours, cutting training costs associated with their Global Dealer Enablement Program by up to 50%."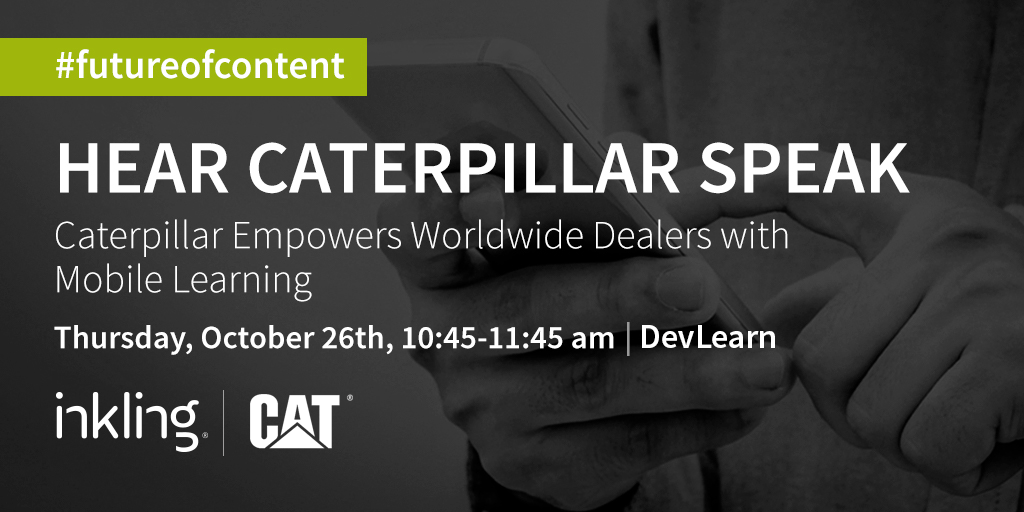 Date: Thursday, October 26th
Time: 10:45am – 11:45am
Location: Trinidad AB
Yes, the future of content is truly here! Meet with Inkling at booth #208 at DevLearn 2017 and learn how to take your employees' learning to the next level with Inkling Knowledge – the platform that covers the whole spectrum of knowledge from content creation and storage to distribution and measurement – all in one-easy to use mobile tool. If you'd like to meet with us on site, feel free to email us at events@inkling.com to set up a time.
See you there!