Discover the Power of Learning Rings to Leverage Advocates
If you use Microsoft, you might be familiar with Windows Insider, which is an open software testing program. Its purpose is to enable a global community of users to test pre-release versions of Windows, which are referred to as "flights."
Insider members evaluate each flight for stability and provide feedback on features, enhancements, and fixes before they're released to the general public. Other Microsoft products like Office have similar programs, but the Windows version is the one that started it all.
The process of building and releasing Windows involves five "rings," each representing the groups that have access to the product at specific points of development.
When I joined the Windows Insider team, I noticed something interesting:The rings represent trust. I view that trust as working in two ways:
The more you trust your product, the greater exposure you give it to a wider audience.
The more you trust the people around you, the more comfortable you are sharing something you know isn't perfect yet.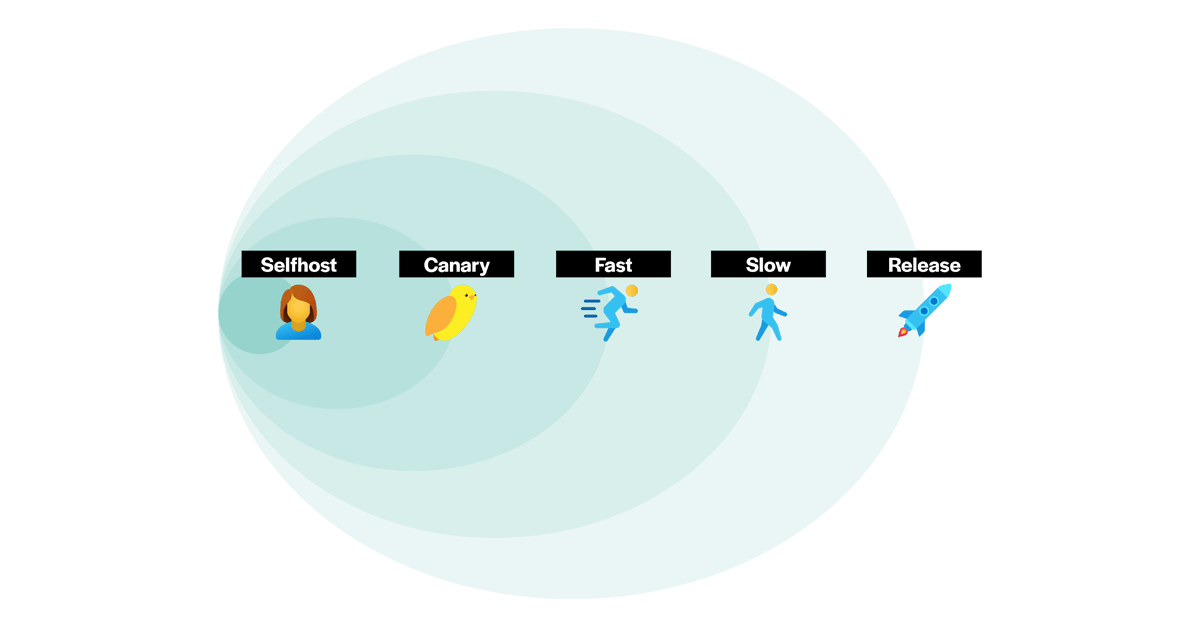 Five rings for learning development
You can take this honed process and replace the software product with any learning or training initiative you want to evaluate. Each ring represents the same rules, trust, and purpose.
This structure provides you with a new means for testing out learning opportunities while providing change management activities behind it. Best of all, you build a network of advocates who help carry the message forward.
Let's explore what each ring means and how it can be applied to your own modern learning development.
Self-host
Representing the most private and internal stage, this ring exposes the initiative only to yourself and perhaps a small group of collaborators. The project is in very early development, and a high degree of uncertainty exists around the methodology and approach.
Canary
As the initiative develops, you enter the second ring where you feel comfortable exposing and releasing it to people you trust. Like the canary in the coal mine, you want to make sure the learning content is viable. This process helps mitigate potential risks and issues, and the feedback is pre-qualified because it comes from a trusted source.
Fast
The third ring is where you shift from sharing with those you trust to sharing with a larger group of people who trust you. While releasing to a broader audience brings more exposure and vulnerability, you've already earned this group's trust. They have faith that the initiative will be developed enough for them to find it useful and valuable. Generally, those in the fast ring enjoy knowing the latest and greatest information and having the "inside track." Leverage and take advantage of these people—they are your learning advocates.
Slow
The fourth ring happens when you're comfortable releasing the learning content to a much wider audience of people who have opted in for early release. This group knows the information will soon go out to everyone, and they want to be one step ahead. Often, these individuals are curious about what's to come but aren't as hungry for cutting edge content like those in the fast ring.
Release
The last ring demonstrates confidence in your learning content's ability to inform, educate, develop, and transform others. You're putting the initiative and its experiences on stage, which can be through social media, writing, teaching, mentoring, or something similar.
Continuous improvement through learning rings
The process doesn't end with the release ring. Like all modern learning, it's a living, breathing product. When you're ready to optimize, revise, and innovate, you need to take this learning content back through the five rings.
On a final note, think of these rings as a guidebook and use them as a defined process others can rely on. You're enabling everyone to become advocates for the transformation you're bringing to your organization and its learning.
Deliver data-informed modern learning (on-demand webinar)
If you want to learn more about leveraging your learning advocates to develop modern learning, watch the on-demand webinar, How to Build Data-Informed Modern Learning with H&R Block. 
You'll hear directly from our guest blogger here (Doug Winnie, Director of Learning Experience at H&R Block) as he joins Ben Willis, Vice President of Strategy for Inkling.