Reduce Retail Turnover: The Big Imperative
Employee turnover has always been a challenge for the retail industry but how do you stop what seems like a turnover tsunami and set yourself (and your employees) up for success?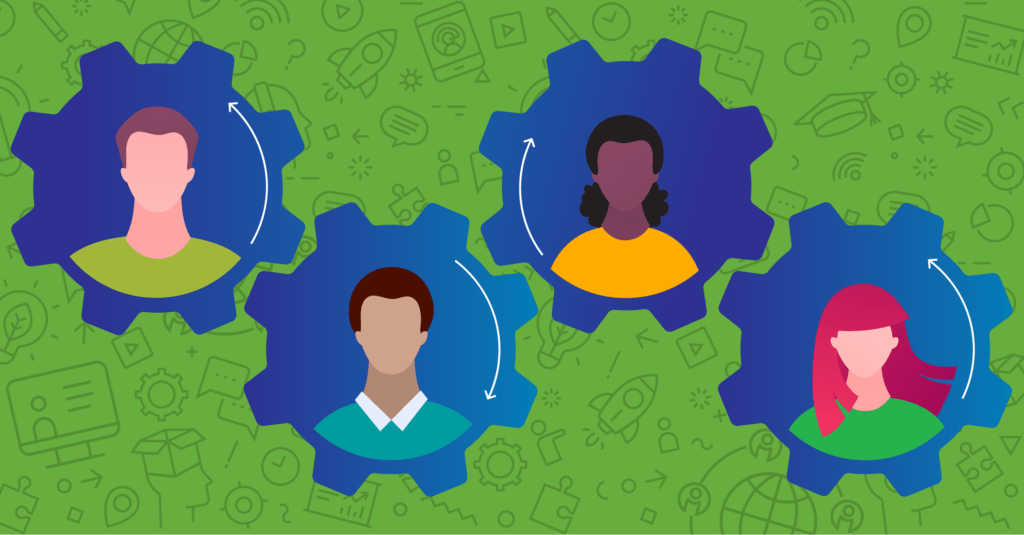 According to McKinsey & Company the rate at which employees leave their job in the retail industry is the highest above any other industry—outpacing the overall quit rate of the US by more than 70%.
It would make sense that if you're in charge of hiring, your main goal is to reduce retail turnover. But since employees today have more job opportunities to choose from, and more tools to access those opportunities, the best place to start is to find out why employees leave in the first place. 
McKinsey notes that one of the top reasons frontline retail workers consider leaving their jobs in the next 3-6 months is limited or non-existent career development. 
Examining your retail training and development can go a long way toward reducing retail turnover. Asking yourself the following questions will put you on the right path.
Are you bringing new employees into your brand experience? 
Here are some questions you can ask yourself:
Are you offering the right kind of training to teach employees how to best represent your brand?
Are you providing ongoing development opportunities to challenge, engage, and retain top talent?
Are you creating a culture that encourages personal and professional growth?
The frontline retail worker is the face of your brand. They are interacting with customers and providing the experience that will make customers want to return or never come back.
But what is your new hire retail frontline employee training experience like? Does the retail onboarding process include immersion in your company culture? If not, how do you expect that new employee to deliver the kind of service to create a positive customer experience?
The challenge is to get new hires up to speed quickly while also delivering an engaging training and brand experience. You can't do that with outdated retail training materials or desktop-bound retail onboarding. Retail digital tools that make training content easily accessible and interactive are the only way to do this effectively. It not only keeps new employees on the floor during their first days with you but, it also increases retention rates so they won't forget what they've learned soon after.
Statistics show that a better retail onboarding experience leads to more loyal employees: a great onboarding experience ensures that 69% of employees stick with a company for three years.
Do your retail employees feel valued?
The role of a frontline retail worker is to deal with customers, no matter how frustrated they get, in a way that makes your company look good. But mounting pressure to do more with less makes this job nearly impossible. 
Ensuring that training retail employees includes the bigger picture is important, even for seasonal hires. Does each employee know how they fit into the entire organization, and why their role is important? Training people on tasks only exemplifies the perception that they are not valuable but to really make the frontline retail worker feel valued is to show them how and why their role is part of the entire company. 
When your retail operations process includes a way to capture employee feedback, you make frontline workers feel valued. Within retail training programs, allowing employees to offer comments, suggestions, and feedback opens the door for two-way communication. You can use this feedback to improve retail training and development, and employees feel listened to and valued.
Do you provide opportunities for career growth?
With high turnover, you can pretty much bank on employees leaving if they feel there is nowhere to go beyond their current role. The top driver of attrition for retail frontline workers under 35 is a lack of career development. 
Offering learning pathways that show career development direction gives frontline retail workers a chance to expand their opportunities for growth with your company. These pathways can detail the skills and knowledge needed to progress their careers, and it also gives you a built-in talent pool when you need to fill a position. 
The goal to reduce retail turnover is likely one you'll be working on for a while but if you offer employees robust retail training and development that brings them into your brand experience, makes them feel valued, and includes opportunities for growth, you'll be farther ahead of your competitors for retail talent.
If you're looking for a world-class retail training solution, contact us or chat with us today to learn more about how Inkling can help your retail locations and improve your overall retail store and employee performance.