5 Employee Training 2023 Trends You Need to Know
These five frontline employee training trends should definitely be on your top priority list if you want your employees and company to flourish in 2023.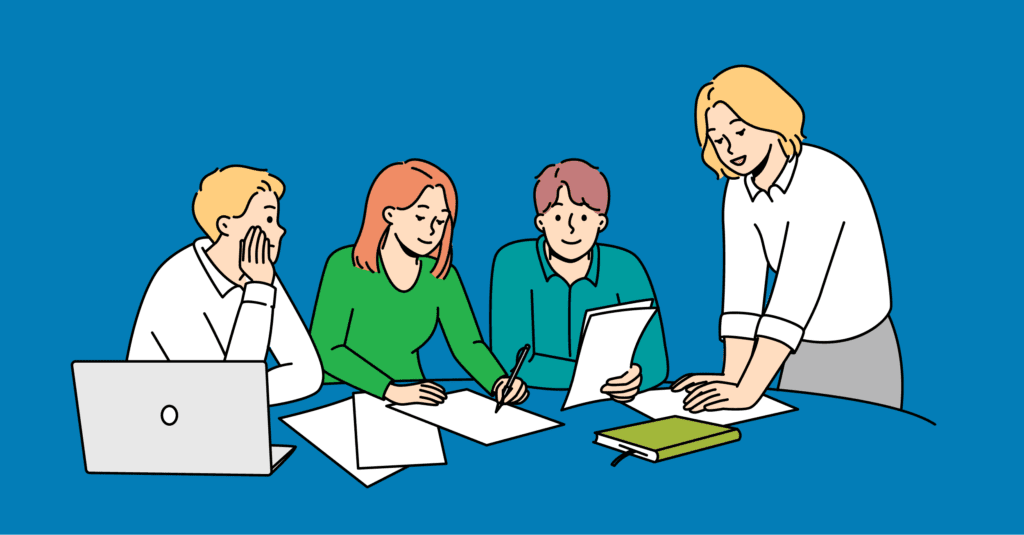 If you tend to not pay attention to industry trends, we're suggesting you take another look at some of the 2023 employee training trends. Why?
Industry trends are like a thermometer and a compass. On one hand, they can reveal opportunities and signal if something needs to change. On the other hand, they also guide important decisions and confirm the proper directions.
And, if we learned anything from the pandemic, it's that things are shifting and changing all the time. Many companies that don't take a serious look at industry trends often remain stagnant. And we've all seen that those companies often can't weather the changes. 
Here's a look at the five trends that you, as an L&D professional, shouldn't ignore. 
1. Making Knowledge Available When It's Needed
The pandemic accelerated and compressed projects focused on the digital transformation of learning, from years to months.  Despite this giant leap forward, employees still can't find the information or training they need to do their jobs. Information confusion is still rampant: 56% of employees can't find digital documents when needed while working.  This can lead to decreased employee confidence and ultimately turnover. 
When you're looking at workforce development training in 2023, be sure to build a single source of truth…a centralized hub of knowledge and training. Decentralized frontline workers, employees working across timezones, or in remote settings absolutely need to find resources in moments that matter on the job. If training content is saved in a bunch of different places or locked in an LMS, this wastes valuable employee time trying to hunt down what they need. 
You want to also make searching this central hub as easy as "Googling" something on the Internet, as well as organizing content in such a way as to make it as simple and as intuitive as looking for something to watch on Netflix. 
With a single source of truth, employees become self-sufficient and are able to solve challenges when they arise. This is how you empower your employees to perform their best.
2. Enabling Employees to Learn Whenever and Wherever They Want 
We all know that the world of work has been through massive changes since the pandemic, and many of these changes have actually been positive. More people are working remotely and seeing that business can still get done without being tied to a single location. That's why workforce development in 2023 must absolutely include mobile learning.  
Keep employees, no matter where they are, updated on mission-critical knowledge and training so they always have the relevant information they need. And it's not enough these days to simply use browser technology on a mobile device. Your learning and training content needs to be accessed like a native mobile app, this is especially true for younger employees who are used to responsive design without scrolling all over the place to get what they want.
Also with a native mobile learning app, employees don't have to endure long wait times for content to load or refresh. That's because it's created and optimized for a specific platform so it's much more efficient in how it loads and refreshes content. Mobile apps that were built using a web browser take more bandwidth and load time can be substantially slower.
3. Retaining Talent with Reskilling/Upskilling
The talent shortage across all industries isn't going away any time soon. So, anything you can do to keep valuable employees is important, especially training frontline workers in 2023. 
Employees want the opportunity to learn new skills. In fact, this is so important that 83% of workers place improving their skills as their number one priority next year, according to a recent survey from Amazon and Workplace Intelligence. The same study found that 74% of employees are willing to leave their current job due to a lack of skill-building and career-mobility options. 
Instant reskilling and upskilling, not only benefits employees but can also benefit you as an employer because it can help you to do more with less.  We often hear of locations that are short staffed and it is not unusual to need an employee that usually works in one department fill in with another department for a shift.  We also constantly hear about the need for someone to help out with a specific task they have never done before during the day. In both these cases, you can't wait for them to take an e-learning course.  They need instant access to microlearning and a checklist to get the job done right. 
This means you're going to need to make reskilling and upskilling a priority. As you look at your learning and training content, determine what can be used to train employees to replace existing skills (reskilling), what can be used to help employees learn new skills to grow their career (upskilling), what can be used to enable employees to function across different departments or areas (cross-skilling), and what can be used to encourage continuous, long-term learning (new skilling). If you recognize this need and provide what employees want, you're going to be one step ahead in the war for talent. 
4. Infusing Training with Company Brand
Another big employee training 2023 trend is turning employees into brand ambassadors. This is especially true for retailers and restaurants because your frontline workers are the face of your brand in how they deliver service to customers. The question is how? 
One example comes from our customer, Jack in the Box. Its L&D team was tasked with modernizing and updating training so it was infused with the company's hip branding to truly deliver a unique experience for employees. Working with us, Jack in the Box was able to put fun into training so employees got the brand experience and could deliver that onto its customers. 
The key is using content authoring tools that allow for collaboration, branded templates, interactive media, and mobile availability…without complicated coding. And, no more creating content in a stand-alone tool and managing it across multiple learning systems. The right content authoring tool allows your team to create, manage, update, and distribute content all in one system. 
5. Saying Goodbye to Legacy Technology 
As we said before, change is happening at a faster pace than ever before. So it should come as no surprise that most employees are frustrated with inadequate technology that bogs them down: 71% of employees will switch jobs if they don't have the tools to do their jobs well. 
It would be a good idea to pay attention to this learning and development 2023 trend: finding modern tools for today's problems.
You want a learning platform that's similar to the technology employees already use so that they don't need lots of training just to understand the system so they can learn what they need to do their job. And employees definitely don't want "death by the next button" LMS technology that's stagnant and out of date. 
Your learning platform should also enable you to quickly update content and distribute it as fast as things change. Gone are the days of taking 2-3 weeks to update training content because by the time you get it completed, it's already irrelevant. When things move fast, your training content needs to keep pace so employees can be ready for anything. 
So even if you don't typically follow industry trends, it is a good idea to know about them in your own L&D planning. By keeping up with the latest developments, you can ensure that your team and company stays competitive in 2023, and beyond.